Where is Warton?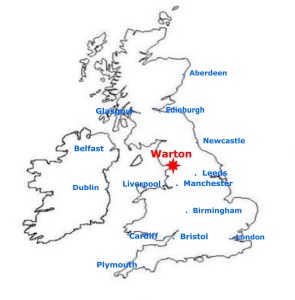 Warton, the centre of the United Kingdom (almost!)
54.147°N 2.766°W
OS grid reference: SD500726
Road Access to Warton
Warton is less than 2 miles from the A6 at Carnforth, and just over 2.5 miles from the M6 J35. It is served by buses from Lancaster, and connections for the Lancaster - Keswick service may be made at Carnforth.
Rail Access to Warton
Carnforth station is the closest stop on the railway to Warton (1.5 miles). Carnforth stands on the Barrow - Leeds line. It is reached from London and the south, and Scotland and the north, via the West Coast Main Line changing at Lancaster. There are also direct trains between Carnforth and Manchester giving easy access to the airport.